Announcing the 2022-2023 Fellowship Cohort of the Institute of the Cooperative Digital Economy at The New School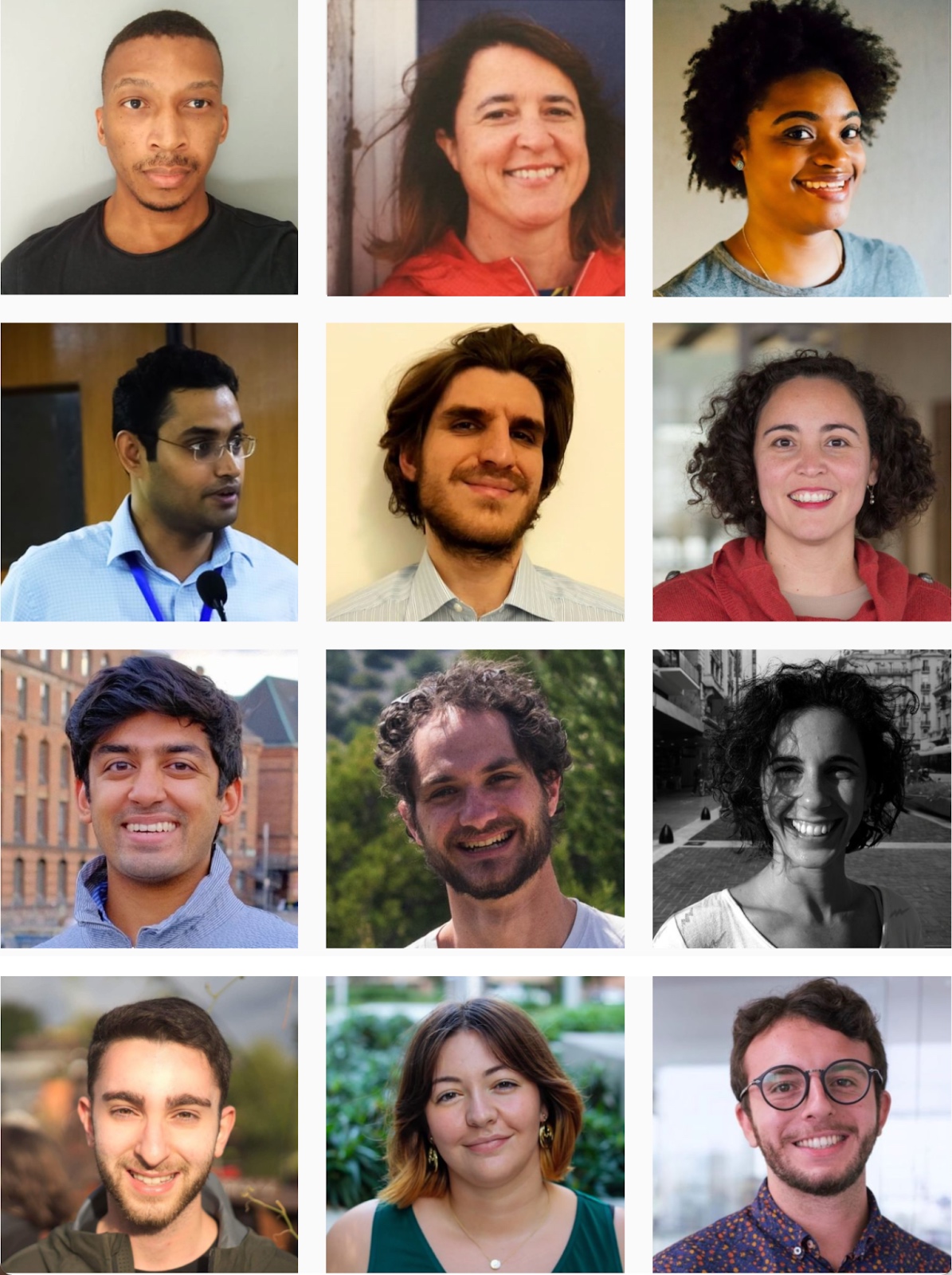 The 2022-2023 cohort of research fellows of the Institute for the Cooperative Digital Economy (ICDE) at The New School includes software engineers, user experience designers, and outstanding Ph.D. students and faculty in sociology, anthropology, economics, social work, cooperative studies, and law.
"The incoming group of creative thinkers and practitioners from five continents will contribute to the Institute's exploration of democratic ownership of the Internet by focusing on topics such as distributed technologies, data stewardship, and municipal economic development. The fellowship is more than an invitation to join the global community of researchers in this area. It's also about the question of what a research network grounded in cooperative culture could look like," says Trebor Scholz, a New School professor and Founding Director of the ICDE.

Research Fellows will investigate how municipalities, in particular, can support platform co-ops and how they can use technology in ways that adhere to cooperative principles while also growing their businesses. The work of the fellows addresses crucial questions: How can municipalities, in particular, support the formation of platform cooperatives? How can various approaches to data stewardship help platform cooperatives compete against incumbents? How might proponents of cooperative ownership of digital platforms benefit from the history of employee stock ownership plans in the United States, making the model more appealing to policymakers? Finally, what role might shared ownership of the Internet play in the decolonization of cooperatives?

This cohort's geographic focus is mainly on the Italian Emilia Romagna region, the state of California in the United States, the Buenos Aires province in Argentina, the state of Kerala in India, the Spanish Basque Country, and the Brazilian states of São Paulo and Rio de Janeiro. Our researchers will present their preliminary findings at the Platform Cooperativism Consortium's November 4-6, 2022 conference in Rio de Janeiro and, prior to that, on our blog.

Join us in welcoming our new fellows, and together, let us envision a more cooperative research culture.


Learn About the Work of These Fellows!

Katya Abazajian
Researcher and Fellow,
Beeck Center for Social Impact + Innovation at Georgetown University,
Washington, D.C., USA
Visit Profile
Katya will examine the enabling environments in cities in California and Texas, including the legal, policy, and community ecosystems that foster the emergence of platform cooperatives. Also drawing on insights from other U.S. cities, the research findings will illustrate the relative strengths and weaknesses of platform cooperatives working in distinct areas, empowering workers and enabling communities to govern digital resources. The resulting research report may also aid in the development of local platform cooperatives in other regions.

Victor Barcellos
Ph.D. Student,
Culture and Communications,
Federal University of Rio de Janeiro,
Institute for Technology and Society (ITS Rio),
Rio de Janeiro, Brazil
Visit Profile
Victor will write a case study about a platform cooperative for commons-oriented cultural workers in the Global South. His ICDE fellowship work will focus on alternative governance, production, and dissemination strategies for cultural artifacts. He'll compare community-owned streaming platforms to the streaming model used by typical capitalist platforms and examine the role of municipalities in building and maintaining these cooperatively owned streaming platforms.

Adriane Clomax
Ph.D. Student,
Suzanne Dworak-Peck School of Social Work,
University of Southern California,
Los Angeles, USA
Visit profile
Adriane's research interests center on the economic outcomes of workers in democratic workplaces, particularly employee-owned businesses. Her interest in platform worker cooperatives arose as a result of her participation in the Alternative Data Futures Research Sprint at Harvard University's Berkman Klein Center, where she worked on a project investigating the value of creating certification standards for platform co-ops. Adriane's research for the ICDE fellowship is focused on the accessibility of platform worker cooperatives for marginalized workers of color (immigrants, the formerly incarcerated, etc.). She is asking how these types of cooperatives can be accessible to workers who don't have the capital to start a business or a brick-and-mortar cooperative.

Mohit Dave
Head, Partnerships & Resource Mobilization at
International Cooperative Alliance (Asia and Pacific),
New Delhi, India
Visit Profile

As a fellow for the Institute for the Cooperative Digital Economy, Mohit will contribute his research to a program in the Southern Indian state of Kerala aimed at employing educated but unemployed people. To this project, he brings the experience of working on an EU-funded project with various ICA members exploring the role of cooperatives in development. According to the Kerala Development Innovation Strategy Council, platform cooperatives have the potential to facilitate a more equitable relationship between platforms and providers. Mohit will collaborate with this Council and the ICDE to assist the Kerala government in establishing platform cooperatives and other employee-owned organizations.
Jad Esber
Co-founder & CEO koodos,
Affiliate at Berkman Klein Center at Harvard University,
Former: Google & YouTube,
Master in Engineering from the University of Cambridge,
MBA Harvard Business School,
New York City, USA
Visit Profile
Jad builds, writes, and speaks about social spaces and creative tools that emerge at the intersection of decentralized technologies and cooperative principles. His primary goal is to provide internet users with the tools they need to navigate their digital identities, own the content they create and create safe spaces for people to connect with one another. He intends to use his ICDE fellowship to research consumer marketplaces, curation, and reputation systems for new cooperative business models.
Pietro Ghirlanda
Ph.D. Student,
Department of Italian and Supranational Public Law,
University of Milan,
Milan, Italy
Visit Profile
Pietro is working on alternative organizational models to commercial extractive platforms. His research concentrates on the cooperative digital economy at the municipal level, with case studies including the Milanese SO.DE, Consegne Etiche, and Fairbnb. For the ICDE fellowship, he will conduct research on multi-stakeholder platform cooperatives and contribute to the larger debate by presenting Bologna's institutional environment, also known as the Italian "Co-op Valley," as an alternative to the Silicon Valley model. He will primarily take an institutional perspective and examine platform cooperatives through the lens of the discourse about the commons. Pietro will propose platform co-ops as the most equitable and efficient organizational model for managing digital and urban infrastructures and providing public utility services.

Denise Kasparian
Assistant Professor of Sociology of Social and Solidarity Economy,
Assistant Researcher of the National Scientific and Technical Research Council,
Gino Germani Research Institute,
Faculty of Social Sciences,
University of Buenos Aires,
Buenos Aires, Argentina
Visit Profile
Denise's work at ICDE will center on the French platform co-op CoopCycle, which is a federation of more than 60 bike delivery cooperatives that rely on the platform's digital infrastructure. Denise will use her fellowship to investigate the benefits of couriers' worker cooperatives in Argentina in terms of autonomy, organizational and political engagement, ownership, compensation, labor rights, and other benefits such as social security. She will also evaluate CoopCycle's transition to a multi-stakeholder cooperative, with a focus on the incorporation of non-European experiences, such as CoopCycle Latinoamérica.
Sain López
Associate Professor,
Innovation Management,
Mondragon University,
Basque Country, Spain
Visit Profile
Sain has been active in cooperative entrepreneurship and innovation since 2008 when she co-founded Mondragon Team Academy, a unique Entrepreneurship Unit at Mondragon University that today leads a global community of over 1,300 young entrepreneurs. She has spent the last decade aiding young entrepreneurs at Mondragon University in establishing new cooperatives. For her ICDE fellowship, Sain will center her study on the formation of platform cooperatives in the Basque Country, a region renowned worldwide for its networks of traditional cooperatives. She asks how municipalities might best support the development of platform co-ops and how large coops in the Mondragon network can convert to platform cooperatives.

T. O. Molefe
Independent Writer, Editor​,​ and Economic Anthropologist,
Affiliated with the African Centre for Epistemology and the Philosophy of Science at the University of Johannesburg,
Co-ordinating Director of Collective Media Co-operative Limited, a Co-operative of Independent African Media and Publishing Workers, Producers, and Consumers,
Former: Contributing Op-Ed Writer for The New York Times,
Geneva, Switzerland
Visit Profile

T.O.'s project critically reflects on the cooperative digital economy through a decolonial epistemic perspective, focusing on cooperative knowledge, forms,​ and practices of Africa (and the global South more generally). He contends that these knowledge sets, organizational forms​,​ and operational practices they engender, have been primitivized and othered due to the ongoing influence of capitalist and colonial logics on the recognition mechanisms of global development actors, governments​,​ and cooperative movements. Through his project, he aims to consider the possibilities that these misrecognized knowledge sets, forms​,​ and practices—relegated often to the category of informal or unregistered—present for the kinds of innovation and alterity that could realize shared ownership, democratic governance​,​ and equitable distribution through digital platforms at a global scale.

George Oates
Software Designer,
Executive Director & Founder, the Flickr Foundation,
Founder & CEO, Museum in a Box,
Former: Design Lead at Flickr and Internet Archive,
London, UK
Visit Profile
George is the founder and incoming executive director of the new Flickr Foundation, a non-profit that works alongside the Flickr corporation, which currently hosts tens of billions of photographs. The Foundation exists to ensure that Flickr.com remains a cultural treasure for future generations. Rather than relying solely on traditional funding, organizational structures, or philanthropic whims, George is joining the ICDE fellowship to deepen her research and development into what it takes to create a commons-led organization grounded in cooperative principles. A platform co-op.

Sadev Parikh
M.P.A. Candidate, J.D. Candidate,
John F. Kennedy School of Government at Harvard University,
Georgetown University Law Center,
Washington, D.C.; Cambridge, MA, USA
Visit Profile
Sadev wishes to conceive of ways to make platform cooperatives more appealing to policymakers. To that end, he intends to research the intellectual lineage of cooperatives, dating back to Robert Owen, Charles Fourier, and W.E.B. DuBois. He'll also investigate religious support for cooperative structures that can be found in the "1986 U.S. Catholic Bishops Pastoral Letter on Catholic Social Teaching and the U.S. Economy." He'll also draw on the history of Louis Kelso's introduction of the employee stock ownership plan (ESOP), Senator Gillibrand's bipartisan Main Street Employee Ownership Act (2018), and legislation like the ACCESS Act of 2021, which could help platforms with alternative approaches to data stewardship compete with incumbent players.

Philémon Poux
Ph.D. Student,
Economics and Law,
Université Paris Saclay,
Paris, France,
Visit Profile
Philémon's work demonstrates that the benefits of blockchains can be maximized for the governance of common-pool resources such as the land commons in Sub-Saharan Africa. He proposes the use of blockchain-based tools in cases where traditional commons governance has failed. For his ICDE fellowship, Philémon will investigate whether democratically owned organizations at the Bottom of the Pyramid can benefit from blockchains' transparency, automation, and resilience when organizing for legitimacy. One goal of this research, linked to a platform co-op of fisheries in Mexico, is to learn how blockchain-based tools can help social cooperative organizations.

And There Is a New PCC Council of Advisors
Anita Gurumurthy, Janet Roitman, Teepee Gile, and Melissa Hoover are among our new thought partners who have been appointed to the Council. Who else is on the Council?
Anita Gurumurthy, Joseph Blasi, Teepee Gile, Howard Brodsky, Melissa Hoover, Matthew Brown, Marina Gorbis, Mark Graham, Yash Kanoria, Hal Plotkin, Esteban Kelly, Scott Heiferman, Balu G. Iyer , Osamu Nakano, Doug O'Brien, David Park, Jack Qiu, Fabro Steibel, Jason Spicer, Wilma Liebman, and Janet Roitman.