ICDE Research Fellows Presentation (Jun 7)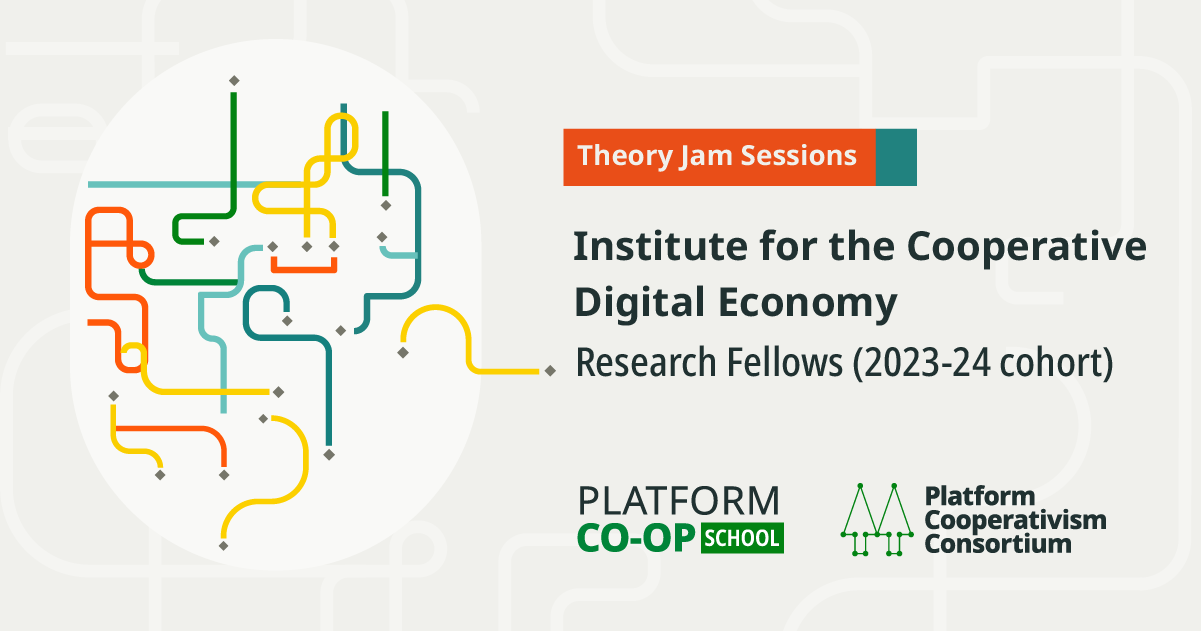 Join us at this symposium to celebrate the research of our 2023-2024 cohort of PCC/ICEE Research Fellows—a group of artists, software developers, and scholars from fields including sociology, anthropology, economics, social work, cooperative studies, and law. The Fellows have focused on topics such as distributed technologies, data stewardship, and municipal economic development, investigating how municipalities can support platform co-ops and use technology in ways that adhere to cooperative principles. Let us come together to envision a more cooperative research culture as we hear from the Fellows about their findings and insights.
Register now to secure your spot!
Our new Fellows are:
Udayan Tandon, a Ph.D. student at the University of California, San Diego, is developing a policy report that aims to intervene in local and regional public procurement processes to benefit community-based platform cooperatives, such as the United Taxi Cooperatives. This project involves collaboration with taxi drivers, community stakeholders, and policymakers in San Diego, with the goal of bringing people together for collective control over on-demand transportation. The report's objective is to improve transportation services throughout the city, and it aligns with ongoing efforts to establish community-based platform cooperatives for collective ownership and democratic control. Despite working on different issues, both Udayan Tandon and Harinjaka A. Ratozamanana share the common goal of promoting community-based platform cooperatives.
Harinjaka A. Ratozamanana is leading the Regional Cooperative for Regenerative Agriculture project in Madagascar, which aims to address environmental and social challenges faced by the region. Deforestation and poverty have led to the loss of biodiversity and degraded soil, severely impacting natural ecosystems in Madagascar. To counter this, the project aims to establish a platform cooperative that brings together farmers, researchers, and local organizations to promote regenerative agriculture practices. Harinjaka's work with the ICDE will center on a "regional platform co-op" as a vital solution to restoring dignity, achieving climate change adaptation, and delivering environmental justice in Madagascar, a country that is facing unprecedented famine and poverty solely caused by global warming, making it imperative to find innovative and sustainable solutions.
Indian artist Priyanka Borar is addressing the issue of digital literacy in forest communities in the global south. Due to inadequate literacy rates and limited access to technology, data-driven local governance is challenging in many communities. Aligned with the Indian Forest Rights Act of 2006, Borar's project aims to empower forest communities by educating them about their data rights. Her work supports equity and liberation for marginalized communities. Furthermore, her exceptional visual style suggests that she can significantly contribute to growing awareness of platform cooperatives in the Global South.

Anne-Pauline de Cler is currently pursuing a Ph.D. in economic sociology at the Conservatoire National des Arts et Métiers in Paris, France. As an ICDE fellow, Anne-Pauline will be investigating the Open Food Network, a non-profit that distributes a platform or "digital food commons" across approximately twenty local 'antennas' that are federated at the transnational level. Her research will focus on comparing cooperatives that are developing in France, the USA, and Catalonia, and examining the forms of labor and regulation that constitute them. Her goal is to understand what makes them more or less viable and capable of transforming the institutional landscape as a whole. Through her research, Anne-Pauline de Cler aims to shed light on the ways in which cooperatives can contribute to building more sustainable and just economies.

Wong Lok Yung from the Hong Kong Women Workers' Association (HKWWA) is leading a project that aims to empower grassroots women workers in Hong Kong through the formation of cooperatives. Yung pursues her purpose of creating a more equal and sustainable community economy. At HKWWA, she supports co-ops as they tackle challenges including space constraints, weak sales, and a lack of public awareness. As an ICDE fellow, Yung will develop and run a campaign to promote the visibility and reach of platform co-ops in this city-state on the southern coast of China.
Santosh Kumar Padmanabhan, an Indian researcher based in Belgium with the International Cooperative Alliance (ICA), aims to establish an international platform cooperative union (PCU). The union's objective is to encourage intercooperation and exchange of information among cooperatives worldwide. Santosh's intention is to collaborate with governments and institutions to influence policy change and broaden the scope of platform cooperatives in the global south. By exchanging experiences, challenges, and best practices, the PCU will enhance cooperative operations and businesses, which will positively impact local economies and communities. Santosh's extensive legal expertise in cooperative law and his close links with the ICA will be important as he develops his work with the ICDE.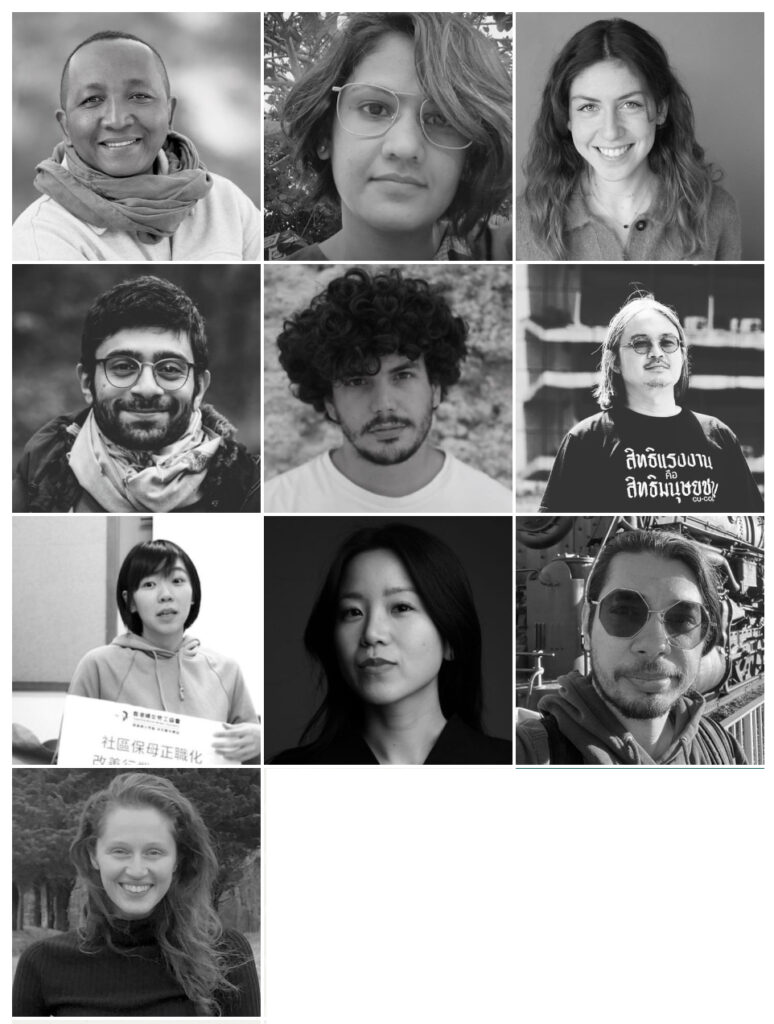 Stefano Tortorici, a Ph.D. student in political science and sociology at Scuola Normale Superiore in Florence, Italy, is researching the potential of platform cooperatives to address scalability and financial challenges faced by traditional cooperatives. Beyond this, his project explores the historical debate between market and anti-market cooperatives and investigates how the theories of Owen, Fourier, and Du Bois can be applied to analyze the relationship between the digital cooperative economy and environmental issues, with a particular focus on climate change. Stefano's expertise in this field is evident from his in-depth master's thesis, which specifically focused on platform cooperatives.
Mosa Tsay, a cellist, and worker-owner of the platform co-op Groupmuse, is investigating the potential of platform cooperatives with a focus on hyperlocal financial support and artist-led community building. Her report will examine how co-ops such as Groupmuse might foster artists' economic independence, financial resilience, and solidarity. She will assess the usefulness of platform cooperatives in contrast to traditional globalization, nonprofit, and streaming service models. Ultimately, the initiative will contribute to a greater understanding of how communities and artists can support each other.
Akkanut Wantanasombut, a Ph.D. candidate from the Institute of Asian Studies at Chulalongkorn University in Thailand, is leading the Phuket Community-Based Food Delivery Platform project to address sustainability and environmental issues. The project proposes a multi-stakeholder cooperative model to create a community-based food delivery platform in the city of Phuket. The platform aims to reduce single-use plastic waste by using reusable containers for food delivery. As a community-engaged scholar, Akkanut is an interesting candidate, and working with them will extend the reach of the fellowship program to Thailand. Although the project's focus may not seem strongly related to fighting climate catastrophe, it can contribute to reducing plastic waste and promoting sustainable practices in the food delivery sector. 

Eve O'Connor is a Ph.D. candidate in American Studies at Harvard University with a secondary field of study in Women, Gender, and Sexuality. She aims to contribute to the field of cooperative organizing by bridging earlier cooperative models and thinkers with contemporary movements. Her research will draw from figures such as Du Bois, immigrant laborers, and trade unionists to explore how cooperative history can inform the present. In particular, she is interested in the relationship between industrialization, climate change, and worker cooperatives. Eve also plans to author a report on cooperative principles and platform cooperatives, with a particular focus on the question of local/municipal governments and financial autonomy.
This is a Theory Jam Session, as part of Platform Co-op School 2023.
Jun 7th, 12.10 pm — 2 pm EDT.