Community Assemblies
The Community Assemblies on Mutual Aid & Tech, hosted by the PCC Solidarity Collaboratory, offers a space for exploring the intersection of technology and mutual aid. Through workshops and discussions, participants will learn how to use technology to support mutual aid initiatives, including tools and platforms for organizing and coordinating efforts, facilitating communication and collaboration, and managing data. Join us for these engaging and informative sessions on the role of technology in promoting mutual aid in our communities.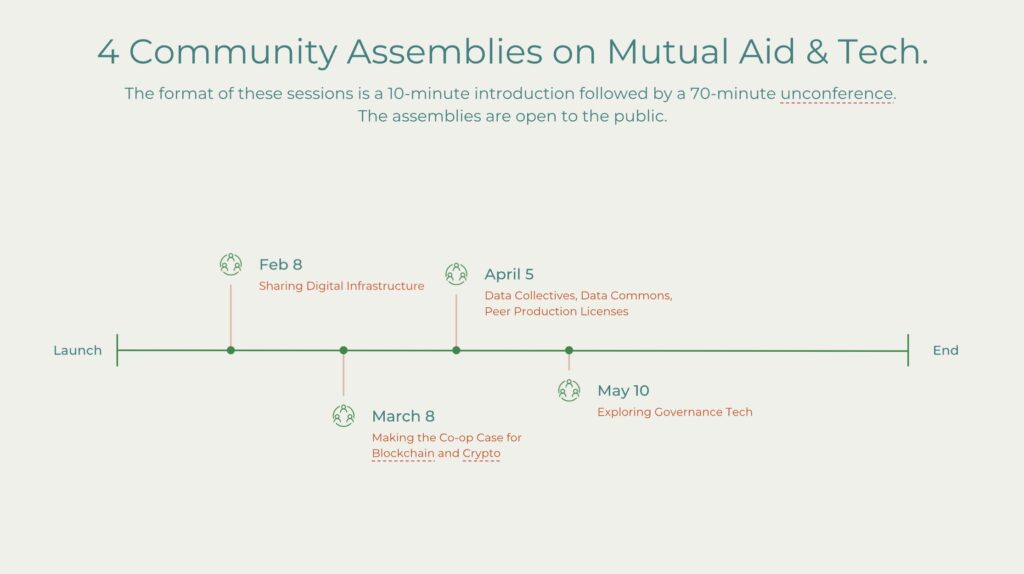 This is an assembly for mutual learning and building things together and for convening thinkers and doers.
All community assemblies meet on Wednesdays 12:10 pm to 2:00 pm Eastern Time.

Free and open to all.
February 8
Sharing Digital Infrastructure
A community forum focused on sharing digital infrastructure can be incredibly beneficial for platform co-op founders. Building software from scratch is often a huge trap that can consume a lot of time and resources. By coordinating and replicating existing digital infrastructure, platform co-op founders can avoid this trap and focus on other aspects of their business. Sharing digital infrastructure can also help to reduce costs and increase efficiency for everyone involved. Overall, a community forum on sharing digital infrastructure can be a valuable resource for platform co-op founders.
—led by OwnCo and Start.coop (as part of the PCC Solidarity Collaboratory).
Read a summary of this session at this link.
March 8
Making the Co-op Case for Blockchain and Crypto
This community assembly focuses on the topics typically discussed under the umbrella terms of distributed technologies, web3, blockchain, and crypto. It aims to convene individuals and organizations seeking to demystify these complex concepts and technologies, which remain a mystery to many cooperative members. Rather than permitting rogue actors to dominate crypto and related domains, the assembly seeks to seed cooperative values of solidarity in these domains.
—led by OwnCo, ITS Rio de Janeiro, Coopersystem (as part of the PCC Solidarity Collaboratory).
Register now to secure your spot!
April 5
Advancements in Data Collectives and Data Commons: A Community Assembly
Participate in the upcoming community assembly to share novel approaches to data management, such as data collectives, with the aim of establishing a digital commons. Share best practices, advance your network, make friends, and identify future projects. Join us to present on case studies, technical aspects (e.g., peer production licenses), or governance.
Register now to secure your spot!
May 10
Film Discussion The Gig is Up
For this community assembly, we changed the program to accommodate the opportunity to screen and discuss The Gig Is Up and also have a book discussion of a new edited volume called Cooperatives at WorkWe'll make the film available for your individual viewing a week in advance. It'll not be screened at the event.