Reflections on Platform Cooperativism in India (as part of Platform Co-op School)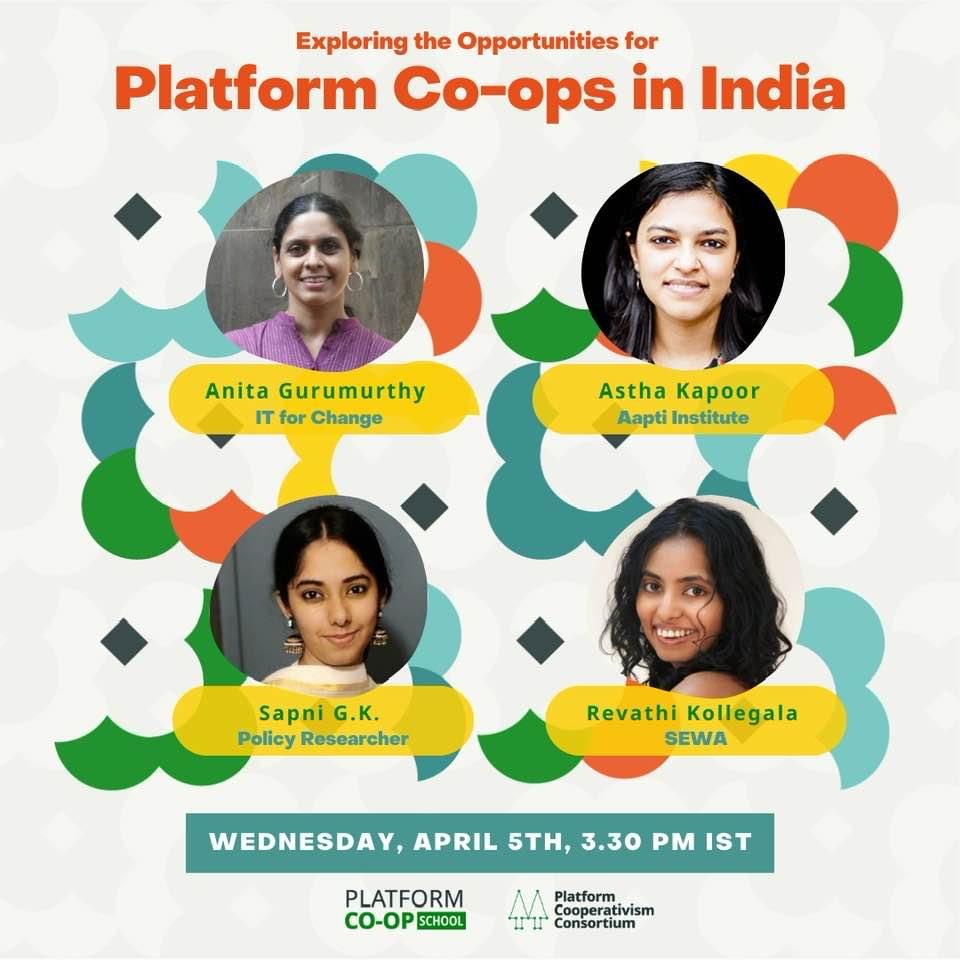 This Theory Jam Session explored the contested terrain of platformization in India, highlighting the work of platform cooperatives and adjacent initiatives charting a democratic, cooperative path for India's digital economy. The session took place on April 5th, 2023. We were joined by lawyer and policy researcher Sapni G.K., Astha Kapoor and Shefali Girish of Aapti Institute, and Anita Gurumurthy of IT for Change.
Sapni G K presented on the regulatory aspects of platform cooperatives in India. She emphasized the importance of understanding the regulatory landscape of the larger economy and how it looks at platformization. The regulatory apparatus in India mostly parses big platforms and the idea of startup culture as adjacent to each other. While there is admiration for startups in India, there are also massive costs, particularly when it comes to labor, where startups work without a lot of regulatory safeguards. Sapni discussed the challenges faced in establishing platform cooperatives in India within the existing regulatory framework. She mentioned the rigidity of Cooperative Society laws, which makes it difficult to establish new and radical forms of cooperatives. On the other hand, corporate platforms lack protections for workers. This creates a challenge in terms of finding a balance between providing space for innovation and ensuring protections for workers. Sapni also noted that the idea of cooperatives in India as being closely intertwined with electoral politics and labor unions. As a result, there has sometimes been a disincentive for people to try out something new like a platform cooperative. There are unfair terms of competition in the market, which can make it difficult for cooperatives to compete with traditional corporate platforms. Additionally, there is a concentration of power and resources in corporate platforms, which limits the ability of cooperatives to participate in the market. Sapni also noted that the tech infrastructure in India is not supportive of cooperative ownership models, and there is limited access to capital for workers who are interested in owning the infrastructure they work on. Furthermore, there is a lack of institutional support for experimental organizational structures, such as platform cooperatives, and the current legal system is not conducive to their development. Finally, there is a fear that pursuing platform cooperativism could result in a loss of the limited political capital that cooperatives currently possess. Additional reading: "Platform Cooperatives in India: Using Policy to Build a Feminist Future of Work," by Sapni GK.
Astha Kapoor discussed the concept of data cooperatives as a form of collective data governance. She explained that data is a relational good that impacts both individuals and communities. However, individuals have limited ability to negotiate with technology platforms and prevent harm, seek advances or negotiate the ways in which data is used. Therefore, collective forms of data governance are needed. Data trusts are one such form, but they are complex legal instruments to deploy. Data cooperatives use a cooperative structure of membership-driven groups with democratic governance systems to safeguard the interests of members and distribute value across all members. Astha gave the example of Driver's Seat, a driver's cooperative based out of California that helps drivers understand their data and gives them greater agency over their income by visualizing their journeys across platforms. It also allows drivers to negotiate with platforms and make their data available to municipalities while distributing income generated from monetizing data back to drivers. Shefali Girish discussed Aapti Institute's work with Mega, a women farmer cooperative in Gujarat under the SEWA Federation. They conducted field visits to understand the cooperative's structure, governance, and data collection challenges. They realized that adding a data layer could help the cooperative with access to finance, which is a major hindrance for the women farmers to scale their businesses. The cooperative engages in organizing women farmers for business planning and provides advisories for their businesses. They also want to scale their output, but they lack the finance to do so. Aapti Institute's approach has been to pull personal data, health records, land holdings, farming data, and data on the output yield to demonstrate creditworthiness. They can then show digital financial service providers the aggregated data to get agricultural credit. The cooperative was willing to share data if they find value, trust, and transparency in the data collection and sharing process. They had hesitations in sharing financial data due to their below poverty line status, which would affect their government subsidies. Aapti Institute and SEWA plan to co-design the governance model, code of conduct, terms of data collection and sharing with different third parties, and consent building over the next year.
Anita Gurumurthy spoke about the importance of understanding the weak links in the social economy and how the social economy contributes to inclusion. She mentioned that policies that privilege smaller social economy actors can create digital capabilities for the local ecosystem. She also discussed the challenges of the extractivist model and the importance of workers establishing control over their data. She discussed the role of the state in digital governance, emphasizing its function as an orchestrator of efficiency mandates in the economy.
Anita discussed a platform cooperative project of the Kerala Development and Innovation Strategy Council, which is running as a pilot in Palakkad, Kerala with the aim to revitalize agriculture in Kerala. The project, Kerala Food Platform, addresses the highly fragmented land holdings for farm productivity by creating a market for vegetable producers to pool their products to make the market more efficient. The project is grounded in cooperativism, but there are also enterprises involved that are outside of the cooperative sector. This platform functions together with a cooperative bank that takes care of the entire agricultural supply chain from input support to loans, extension visits for advice, coordinating from appliances, procurement value-added, and distribution services. The project is also exploring the idea of a data trust and how to locate it within an existing institution, and the bank is being considered as a potential steward for this additional dimension. The farmers in the area are proud of their cooperative bank, which is enabling them to transition from heavily pesticide-dependent cultivation to a more organic one. The project is still in its pilot phase, but the idea is to expand it beyond just selling vegetables to other products, similar to how Amazon started selling books but eventually expanded to selling almost anything.
The platform collectivism logic embedded in social commons of data is important for creating a sustainable and institutional ecosystem, rather than relying on individual enterprises. The role of public finance becomes crucial in providing services that are typically provided by monopolies in extractivist platform economies, thus enabling a different model of graded variable fees and provisioning by the government. Cooperative federalism is important for digital governance, ensuring economic alternatives can find their wings and be different rather than relying on a one-size-fits-all economy of extractivism. Anita noted the importance of distinguishing between data as property and data as a resource, the latter being a collective asset that requires a different governance approach. She emphasized the need for public law to be the catalyst for creating institutional mechanisms to ensure the social commons of data are governed by resource governance practices.
You can view the recording of this event at this link.