A Cooperative Learning Approach to Forest Management in India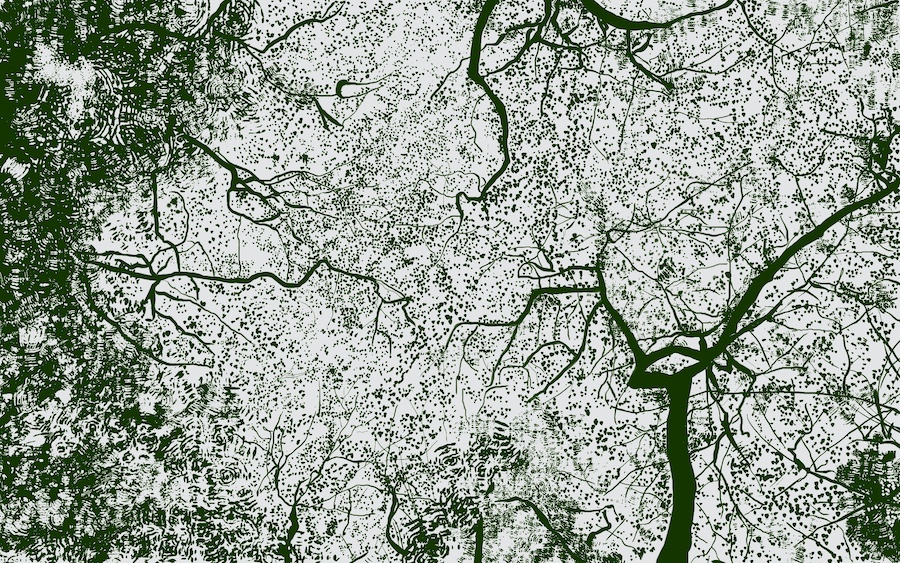 A large population of forest-dwelling communities in India is dependent on forests for their livelihood. Community Forest Resource (CFR) Rights recognized under India's Forest Rights Act (FRA) of 2006 transfer collective rights and responsibilities to forest-dwelling communities to use, manage and conserve forest resources, and to legally hold forest land that these communities have used for cultivation and residence. It also recognizes the integral role that forest dwellers play in the survival and sustainability of forests and in the conservation of biodiversity.
Despite the potential of the Act to empower local communities for forest governance and management, the communities continue to struggle due to lack of awareness and capabilities to assert and exercise their rights. States where FRA has been implemented have received support from non-state actors, primarily NGOs and civil society organizations that have been working with the communities to ensure they are informed about their rights and have the capacity to exercise their responsibilities. However, the work by NGOs is limited in reach and their approaches are specific, stemming from their respective backgrounds and histories. (Gupta et al, 2020)
For building capabilities for governance and management of forests, the communities must be empowered for collective decision making above and beyond acquiring factual knowledge about their rights. "The potential to influence numerous individuals to make decisions that benefit wider society has focused the attention of a number of fields onto social learning. For example, there has been increasing use of the social learning concept in adult learning to teach citizenship. Here, the belief is that good citizenship can be learned, not from a formal curriculum but instead through positive experiences of active involvement within society. This approach stresses the importance of creating adequate conditions to link experiences, reflection, and experimentation between individuals and groups." (Reed et al, 2010)
Forest-dwelling communities are naturally occurring communities of practice. Learning in these communities is intrinsically social and happens through everyday interactions with community members and their environment. Traditional knowledge of the ecology is passed on through everyday practices. A social learning approach to building capacity is most suited for these communities. It makes it possible to create learning conditions that build upon their day-to-day practices and integrate with their way of life. It also allows bringing outside actors in their social network who they can interact and learn with. However, it is important to be mindful of the role power and scale play in influencing learning in a social context, and to create equitable conditions for learning and cooperation. For example, the roles that gender might play – in some ongoing work by NGOs, they are specifically focusing on women participation as women have been historically neglected and could hesitate to voice out opinions in a mixed gender group.
Two examples are worth mentioning here that show what directions might emerge from a cooperative learning approach:
In villages in Maharashtra that have been actively managing their CFR for more than five years and have been working in partnership with civil society organizations, researchers, and lawyers, Gramsabhas are experimenting with different management strategies – how sustainable grazing can be ensured, whether fire is good or bad for sustained productivity of fodder? These villages have also adopted protection measures such as ban on hunting, wood cutting, grazing and fire. (Source: ATREE)
The People's Archive of Rural India (PARI) has been reporting and documenting stories from everyday lives of rural india. These include stories like Shanthi Kunjan, who is amongst the 0.9 percent of rural Adivasi women who have a graduate degree and is working to make education for tribal students relevant and accessible. And Lokanath Nauri, who along with his son in Kerandiguda village of Odisha doesn't use any chemical fertilizers or pesticides on their land, and harvest an incredible variety of crops through traditional farming methods. PARI Education, a PARI initiative, is working with schools and colleges across the country to bring such stories to the classroom and helping them design their own curricula, while also acting as a bridge between the urban and the rural.
Shanthi kunjan's approach to teaching is an especially fitting example for thinking about approaching data literacy for forest communities. She is bringing the forests to her mathematics classroom. "Adivasi children.. scurry outside, climbing trees and scouring the forest floor for long sticks. Later, they will mark these into meter lengths and measure the walls of their homes. Lessons on simple measurement begin this way". A great way to connect school, forests, and home environments using an abstract mathematical concept and activate these spaces for the young minds in new ways.
In my work to create learning materials for data literacy for forest communities, I intend to take a similar approach – to take examples from their environment to introduce the abstract concept of data, design materials that facilitate and encourage interactions between community members and their environment, and use stories to illustrate scenarios in which they need to exercise their data rights or resolve conflicts. For example, through mapping activities, introducing GPS, land boundaries, the concept of community data and their economic rights over that data. I envision these materials to be used by communities to create learning experiences for themselves and also improvise based on their specific needs and circumstances. I also hope to explore how digital platforms, community archives and radios might support and facilitate growth of learning networks amongst communities and also connect them with civil society organizations, research and learning institutions, and grassroots movements to ensure continued learning.