A Thai Multi-Stakeholder Platform Co-op for Plastic-Free Food Delivery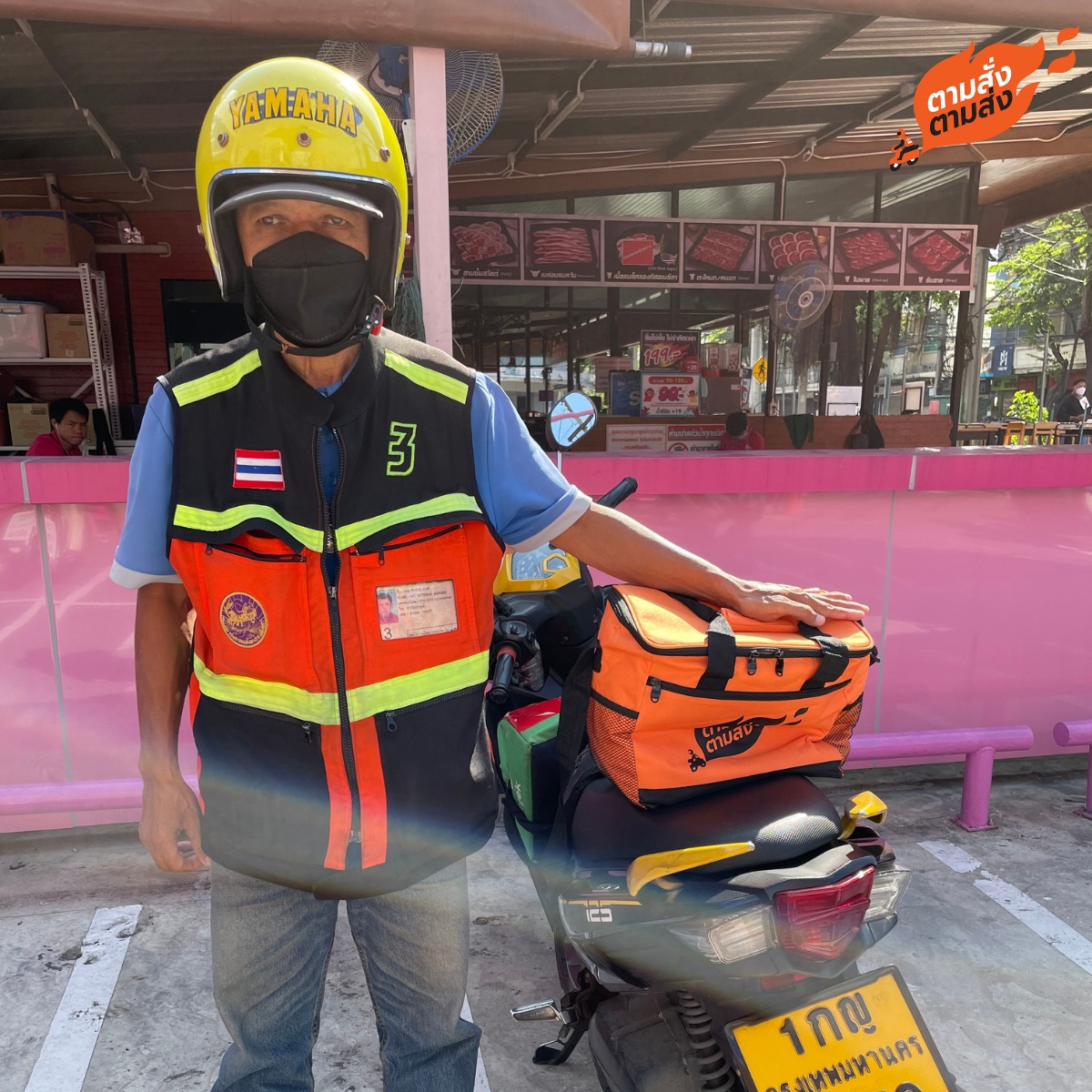 The food delivery platform has become increasingly popular in the past decade. In Thailand, the second-largest food delivery market in Southeast Asia, the food delivery market has tripled during the pandemic, from 40 million orders annually to 120 million orders. While food delivery services provide convenience and might play a part in modulating the further outbreak of the COVID-19 pandemic, they pose challenging consequences for labor, market mechanisms, and environmental sustainability.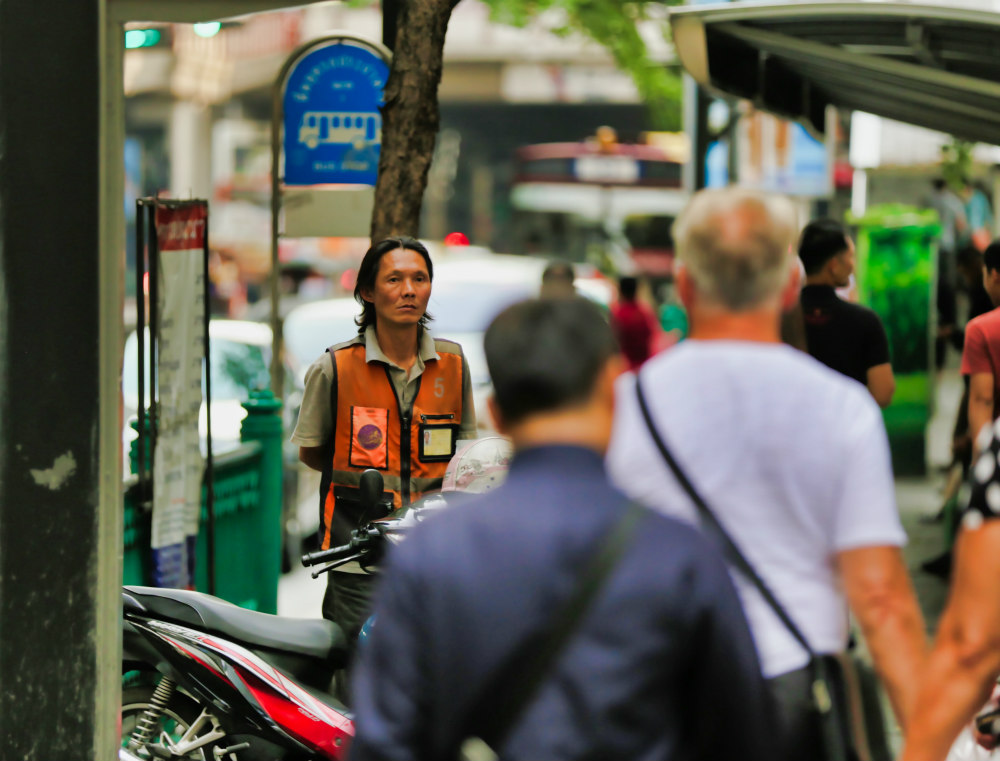 In Thailand, the exponential growth of food delivery services increases the amount of plastic waste, especially during the COVID-19 pandemic. Plastic waste increased by 62.3% from 2,115 tons daily in 2019 to 3,432.3 tons in 2020, and only 659.8 tons were recyclable. According to a survey by the Pollution Control Department (PDC), one order from a food delivery platform in Thailand generates an average of 11 pieces of single-use plastic (SUP) waste, meaning an estimated 1.3 billion pieces came from the food delivery industry alone. With the expected growth of the industry, plastic waste will increase to over 2,325–6,395 billion pieces per year in 2025.
These numbers raised concern among environmentalists and authorities and led to immediate actions to find a proper waste reduction solution. As part of Thailand's roadmap on plastic waste management, the PDC initiated a guideline for three key stakeholders: restaurants, food delivery platforms, and consumers. For restaurants, the PDC proposes the promotion of eco-friendly packaging as an alternative for consumers. A special label is added in the app for restaurants that offer environmentally friendly packaging to raise awareness among consumers about the excessive use of SUP. For food delivery platforms, besides the label, the PDC has asked for cooperation on adding an opt-in function in the app so that consumers can refuse plastic utensils and seasoning packets.
In September 2020, the PCD, businesses, and five major food delivery platforms in Thailand signed a Memorandum of Understanding on reducing SUP in Thailand. The media widely reported the MOU signing, allowing platform companies to claim their social responsibility on environmental issues despite other controversial issues such as social protection for labor, high commissions towards restaurants, and their monopoly of power over stakeholders.
Besides the additional opt-in feature, the PCD, with guidance and support from the German Deutsche Gesellschaft für Internationale Zusammenarbeit, had a more ambitious plan to implement reusable packaging on food delivery platforms following successful cases in Germany.
Implementing reusable packaging with food delivery applications, even in a small pilot area, requires more than a minor UI adjustment. It requires platform companies to redesign both UX and UI. As all platforms in the market are profit-driven companies, they prefer to centralize and standardize their operations by using the same algorithm for all locations they operate to create network effects. Therefore, Food delivery companies have no genuine interest in reducing plastic waste if they have to put in efforts that are not making money for them.
At the same time, I was piloting a not-for-profit food delivery platform 'Tamsang-Tamsong', in Bangkok. As GIZ and Phuket Environmental Foundation invited me to implement in Phuket, I was keen to accept this challenge.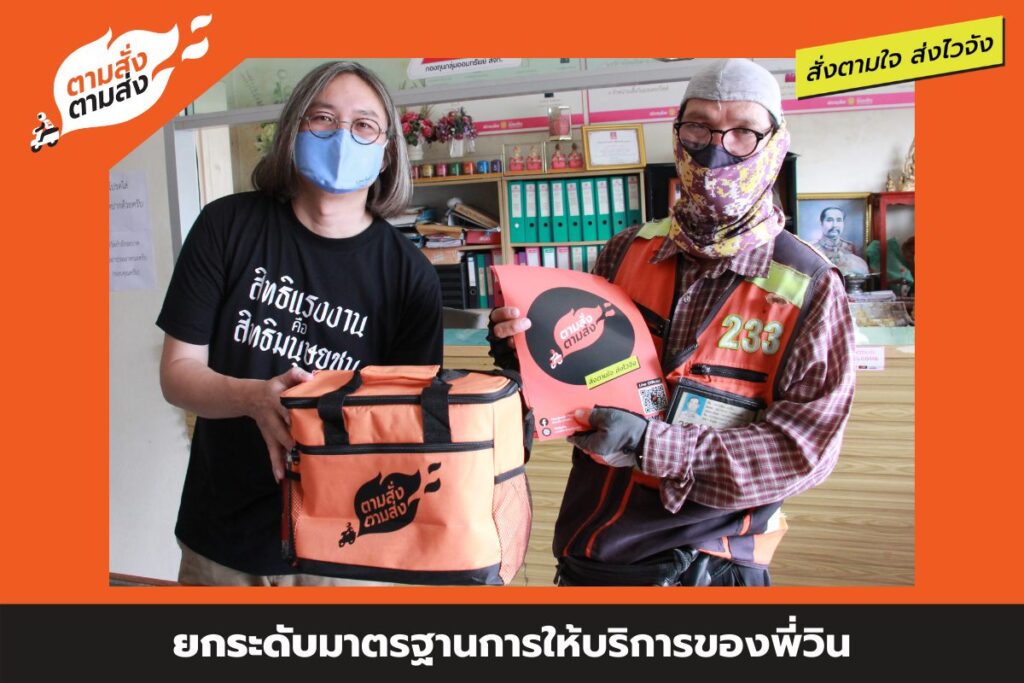 'Tamsang-Tamsong' was initially inspired by the platform cooperativism movement as I joined the PCC online course in 2020. Using a multi-stakeholder co-op model, we combined restaurants, food delivery riders, and consumers in the community together to co-own and operate the platform themselves. The original aims were primarily to provide job opportunities and boost the community economy. The project was launched during the COVID-19 pandemic when the Thai government prohibited people from eating at restaurants. Ordering food through a mobile app became necessary. Though orders increased threefold, the platforms increased their commission from restaurants by up to 35%, which is too much for me to accept.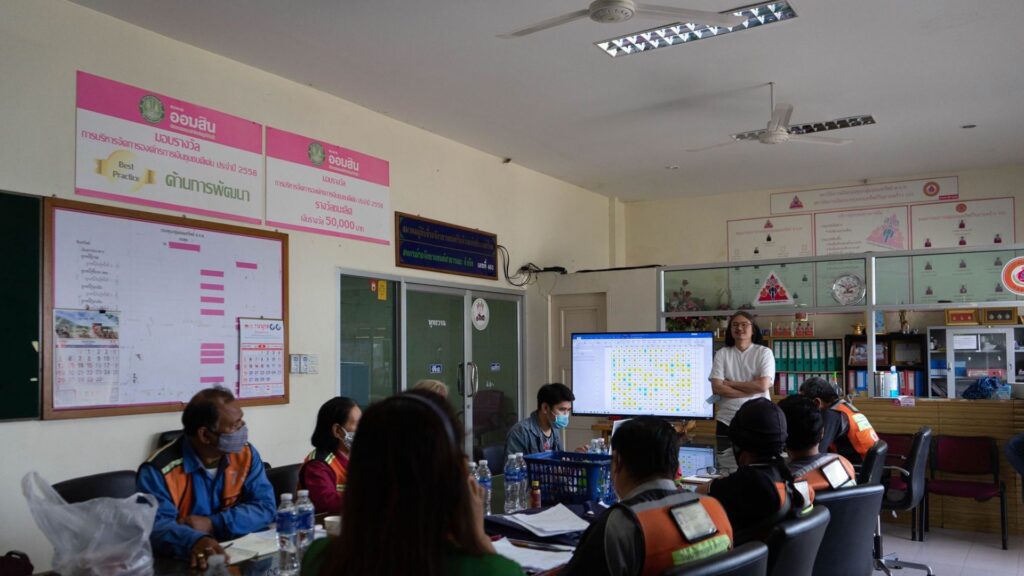 The first location operated at Soi Ladprao 101 in Bangkok in 2020. Since its beginning, the overuse of SUP has been noticed. Therefore, the very first version of the app had an opt-in feature for restaurants to offer environmentally friendly packaging as an alternative. The lesson learned from the first operation at Ladprao is that, though customers are willing to pay more for environmentally friendly packaging, only a few restaurants in Ladprao 101 offer alternative packaging; we found that the restaurants consider it a burden to manage many types and sizes of packaging. This insight raised doubt about whether, if the environmental issue is the priority for stakeholders in the first place, the food delivery platform can be a part of tackling the SUP.
Phuket is an island in southern Thailand, one of the most famous tourist destinations, and it is famously known for its beautiful beaches. As Phuket rely on tourism, pollution and waste management become a top concern. In early 2022, while other major food delivery platforms refused to cooperate, Tamsang-Tamsong, together with GIZ and Phuket Environmental Foundation, collaborated on the project 'Less Plastics in Phuket: Reduction and Better Plastic Waste Management in Households and Businesses' invited restaurants, riders, and other stakeholders to join a project that aims to integrate social economic and environmental issues.
The Phuket Tamsang-Tamsong project focussed on replacing SUP with a food carrier, locally known as 'Pinto', and eco–friendly food packaging. The basic principle for the food delivery system with Pinto is that for the first-time order, the customer will receive food with a free Pinto from the restaurant through a rider. And to order the next Pinto food, the customer has two options; 1) Return the previous Pinto to the rider and receive the new Pinto food or 2) In case that it was not convenient for customers to return the previous Pinto, the customer has to pay 270 THB as a deposit for the new Pinto before ordering the food. Right after the new Pinto is returned to the restaurant, the customer will get the deposit back. However, the project attempted to promote the circulation of the Pinto instead of paying the deposit.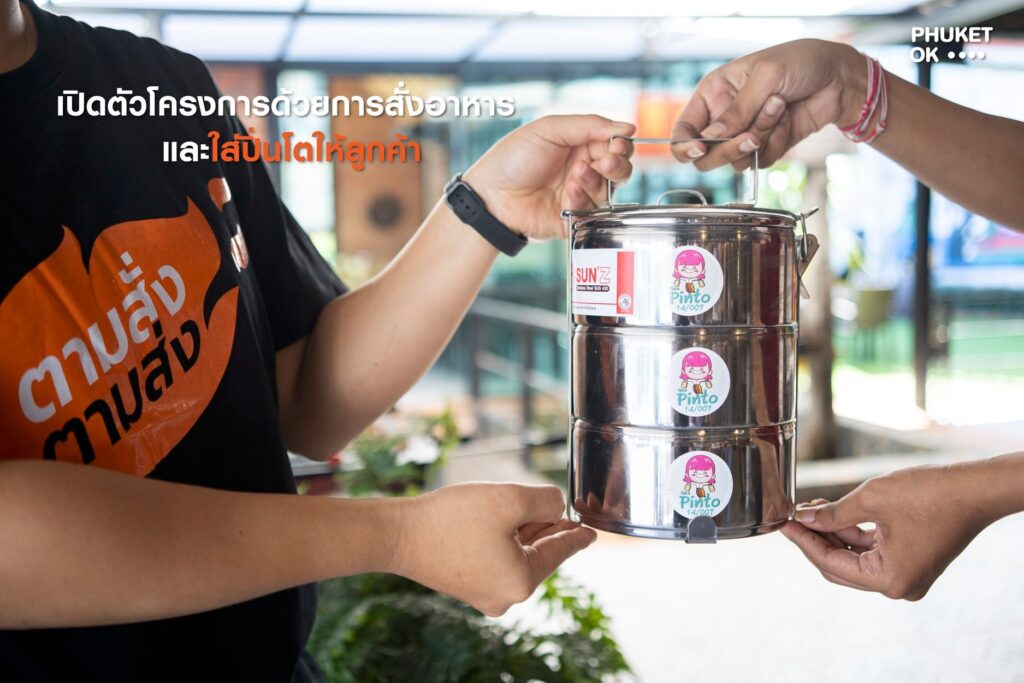 This circularity pilot project can only be accomplished with solid network cooperation among stakeholders. The key to success is discussing and understanding comprehensive issues with all stakeholders. It is critical to constantly implement a trial-and-error method to improve the process by analyzing and selecting all aspects of the experience.
The project's outcomes reflect several lessons learned, and factual information from Phuket can be extended for scaling out to other locations in Thailand. Over the next year, as part of my ICDE project, I will undertake a comparative analysis by examining the effectiveness and cooperation among stakeholders in two different locations in southern Thailand: Phuket, a multistakeholder cooperative, and Surat Thani, where we will implement a worker cooperative model within the Tamsang-Tamsong context. The objective is to ascertain which model will yield superior outcomes, particularly in terms of operational efficiency and stakeholder collaboration.