How to Connect the Platform Ecosystem? A Report from Mexico City.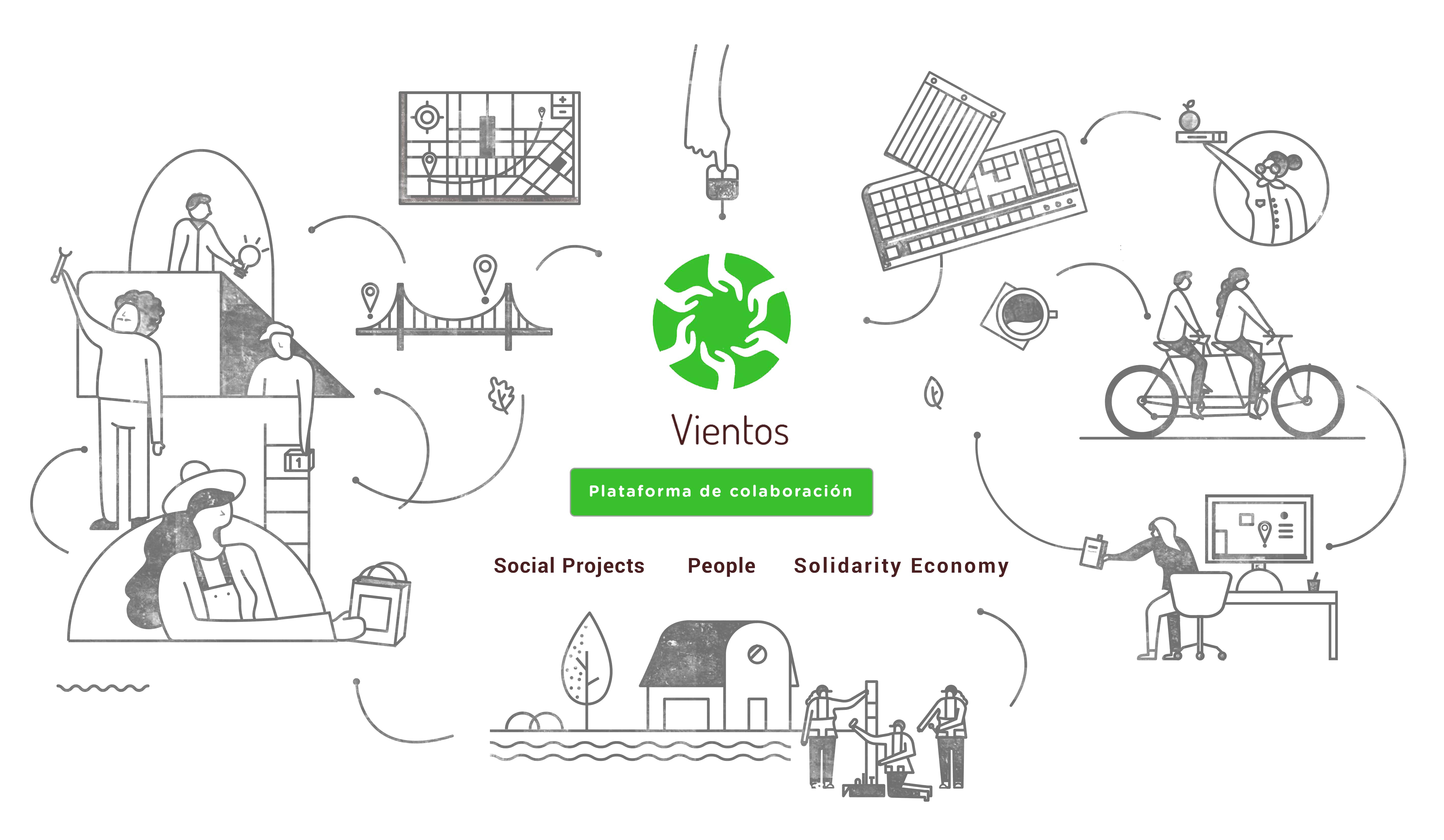 by Sebastian Romero
Mexico City is a sprawling metropolis with over 21 million inhabitants. Devising solutions to sustainably meet the needs of us all requires smart collaboration rather than isolated efforts. This is where Vientos comes in.
Vientos (vientos.org.mx/en) is an open source platform co-op that for the past year and a half has been designing ways to facilitate collaboration between social projects, the solidarity economy, and individuals.
Taking their needs, interests, skills, and location into account, Vientos is an online platform where organizations, local businesses, and individuals can participate to find opportunities to work together.
Through mapping co-ops, civic society, sustainability projects, and local businesses, we've encountered a multitude of untapped energies and resources across the city. The sheer volume of initiatives makes it difficult not to find projects and people with similar interests in your area.
A bird's eye view of needs and available resources in Mexico City facilitates the coordination of those resources with collective wellbeing and a more equitable economy in mind.
We chose the platform co-op model because it allows us to create an open, decentralized organization in which anyone can cooperate and share ownership. We engage with contributors and stakeholders to democratically decide how to lead the platform, the coop, and the ecosystem which aim to strengthen our web of mutual support. It is, ultimately, a community building effort.
"Together we have everything," as United Diversity co-op puts it. But in order to have it all, we need to organize opportunities for collaboration.
The platform coop model is not just a tech hack but an opportunity to create businesses that reflect the ways in which cooperative principles can fundamentally restructure our economy. Reformulating how platforms distribute ownership and control among stakeholders of society defies the workings of the old economy.
To ensure the democratic administration, transparency, and fair distribution of ownership among stakeholders we are experimenting with Loomio, Open Value Network, Fairshares model, the Open Bank Project, Co-budget, Time Founder, the dynamic equity split system, and the open coop model.
We want to show that the solidarity economy can be powerful if expressed and supported by a collective effort. We built a platform to activate this network, this symbiosis, the conscious flow of resources. Big data, open data, awareness of patterns can all help us identify the intersections in which we can work together, in which alliances can be made, in which resources can be shared or exchanged.
Creating a platform for collective action and smart interdependency allows us to study the flow of resources, geographical patterns, collective intelligence behaviors, cultural dynamics, and how to optimize and reformulate these.
What kinds of collaborations do we support on the platform? There are for example, sharing tools, a calendar of events/workshops/markets, bartering materials, crowdfunding, buying or selling products and services, skill-exchanges, volunteering, cooking, teaching/learning, and jobs.
Types of projects are situated in many different sectors include art and culture, human rights, delicious food, environment, gender, education, transportation, technology, and housing.
We have been running the beta version for the past two months with 40 projects/businesses in Mexico City.
We plan to launch the international platform soon. Let's collaborate.