​Andrea Nahles, head of Social Democratic Party of Germany, Commits to Support Platform Co-ops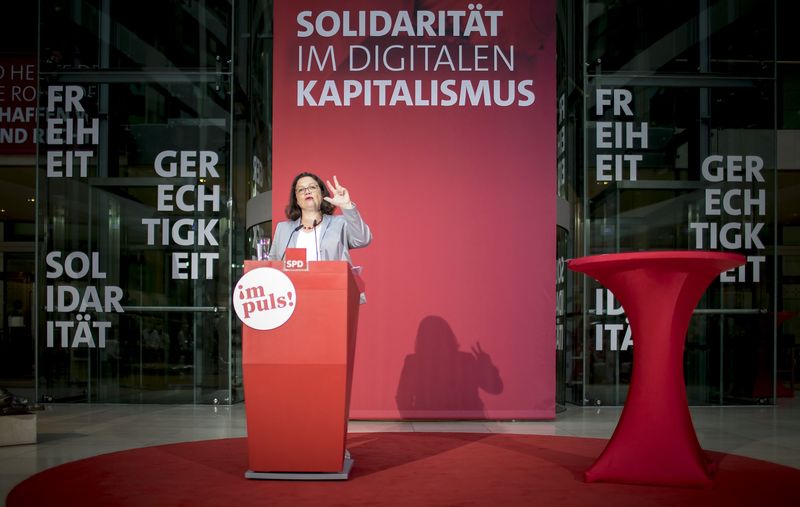 This August, Andrea Nahles, leader of the Social Democratic Party (SPD) in Germany, met with Prof. Trebor Scholz for a discussion about his book, Uberworked and Underpaid. In their first meeting together, the leader said that platform cooperativism is aligned with the values of the Social Democratic Party of Germany (SPD). Nahles criticized tech giants and the current internet as too centralized, citing mass data collection and internet surveillance as growing problems. After discussing with Trebor the platform co-op model as an alternative for the digital economy, Nahles concluded "Jetzt machen wir das mal" or "And now, let's do it."
Just a few days later on August 23, Trebor and Andrea held a joint public event in the SPD headquarters in Berlin. In their statements, Nahles emphasized her strong support for platform co-ops and the need for the Social Democratic Party to help them develop: "We therefore have to think in concrete terms about how we will further promote online cooperatives and charitable start-ups in the same way as we do today with normal start-ups." See additional press coverage about the event here and Andrea Nahles' full remarks on the essential role of platform cooperativism below.
Scholz and Nahles followed their statements with a discussion, touching on a number of key issues for the development of platform co-ops. One issue raised by Nahles is why restaurants and food deliverers do not simply start their own platform co-ops to serve customers. Why should they leave this work to tech companies that extract huge fees without cooking a single meal, and who then pay workers less than a fair wage? A similar concept has been floated by Brad Lander of the NYC City Council.
During their press conference, Nahles also committed to support platform cooperativism in Germany, specifically by supporting the development of a platform co-op for refugee women in Hamburg. This initiative will serve as a key pilot group for the ongoing Platform Co-op Development Kit. And while the cooperative organizers in Hamburg originally sought to cooperatize women workers for childcare services through the tagesmutter (or in-home childcare) model, this work will likely shift to the elder care sector instead. The SPD is committed to solving the issues of state-provided childcare, and not offering a band-aid solution through the tagesmutter model. Hence, work is now underway to launch an elder-care cooperative run by refugee women in Hamburg with the support of the SPD. More information will be posted about this project on this blog in the coming days. See Scholz's comments about the growing movement in Hamburg and across the globe below:
After the speeches, participants and attendees from the audience joined the speakers on stage asking many questions and offering commentary. For example, Markus Sauerhammer of the Network for Social Innovation, spoke about the importance of building a broad coalition of platform co-ops and the need to find alternative ways of financing them. Many others spoke and asked questions, and even more continued the discussions online. For example, see Thomas Donnebrink's reflections about the event here and connect with him or Ela Kagel to learn more about the burgeoning Platform Cooperativism Consortium in Germany.
For a full recap of the event, including remarks by Prof. Trebor Scholz and all questions and commentary from the audience, see the video below. Also, explore the press materials circulated to the media about platform cooperativism and review the key policy recommendations the SPD can implement to support platform co-ops.
Finally, a big thank you to all who have commited themself to the work of expanding platform cooperativism in Germany and contributed to it over the last years. There has been lots of hard work over the past 3 years, and the PCC would like to acknowledge and celebrate all those who have been involved and continue to push this critical work forward.
Check back on this blog for more updates as this important collaboration between the Platform Cooperativism Consortium and the Social Democratic Party of Germany continues to develop.
And as at The New School approaches its centennial anniversary, we hope to welcome Andrea Nahles to campus soon — she would be a fitting speaker for The New School turning 100. It was her predecessor after all, Willy Brandt, who spoke at The New School for its 50th anniversary.